Workation in Darjeeling (Complete Guide)
I have planned the perfect workation from Darjeeling for you. Find the complete guide inside with detailed plans and budget estimations.
There are a few co-working spaces in Darjeeling that allow the traveler not only to experience the town's authentic spirit but also to conduct their day-to-day business activities. As a 9 to 5 employee, a freelancer, or a businessperson, you may find yourself needing a getaway from the drudgery of daily life at a place like the Pankhasari Retreat. This beautiful resort is situated between a waterfall as well as a river, with a stunning view of the surrounding farmland.
Darjeeling is among India's most attractive hill stations, and it served as the country's primary summer resort destination during the reign of the British Raj. And it's not difficult to see how such a rolling hill station is been a popular vacation spot for generations.
Darjeeling is a popular tourist destination in India and around the world because of the serenity, nature, the abundance of places to visit & things to do in the area.
Whether you're looking to connect with your spiritual side, indulge in some delectable local cuisine, shop, or experience a few adrenaline-pumping adventures, Darjeeling will leave you spoilt for options.
Plan
When to Visit Darjeeling
The summertime of April is really the busiest for domestic tourists, who arrive in large numbers. This is the most delightful period to be there in Darjeeling at this time of the year.
The monsoon season, which runs from June through September, is the most inconvenient time to visit. The persistent rain, landslides, and floods may cause your itinerary to become impassable and impossible to repair.
The months of October and November are referred to as the shoulder season. The months of December to March are extremely cold, and the town receives a very small amount of visitors throughout this time. However, you will have the place to yourself and will be able to get better rates on accommodations, transportation, and souvenirs if you travel in small groups.
How to Get There
By Air: The closest airport to Darjeeling is Bagdodara. It is accessible by train from Kolkata, Delhi, and Guwahati. From here, you can reach Darjeeling in three hours by bus or taxi.
By TRAIN: The closest intercity train station is New Jalpaiguri (NJP) in Siliguri. Several times a day, direct trains from Delhi (which take around 27 hours) arrive at NJP. A short distance from here is the famed Darjeeling Himalayan Rail, known to everyone as "the Toy Train." Because it goes through such beautiful mountain scenery and it has been the topic of numerous romance articles and films, this route is extremely popular with travelers. Trains to Delhi, Bengaluru, Kochi, and Thiruvananthapuram are restricted to tourists who meet certain quota requirements.
By Road: The driving distances between Kolkata, Gangtok, and Kalimpong are 651 kilometers, 100 kilometers, and 51 kilometers, respectively. If you're driving in from Kolkata, you'll encounter parts of the road that aren't ideal. It's a thrill to drive once you get to the hill section. An average trip takes 14 hours.
How to Spend Your Evenings Here
An evening is well spent roaming around the local markets or getting a coffee with friends at the many beautiful cafes around the hill station.
Weekend Plans in Darjeeling
Take a stroll in Shrubbery Park or soak in the majestic Kanchenjunga. Visit the Himalaya Mountaineering Institute for more information. Visit the beautiful Himalayan zoo for a unique experience.
Tiger Hill is a great place to experience the sunrise.
Make a trip to the Rock Garden.
Take a ride on the Darjeeling toy train. in this way, you will easily manage work on weekdays.
Recommended Budget Stays for Working from Darjeeling
Rooms at the Mayfair Darjeeling are big and pleasant. A variety of amenities, including conference rooms, a kids club, a gym, and free Wi-Fi, are available to all guests. The hotel's prime location is its main selling point. Nearby, guests can visit all the most popular tourist destinations at their own convenience.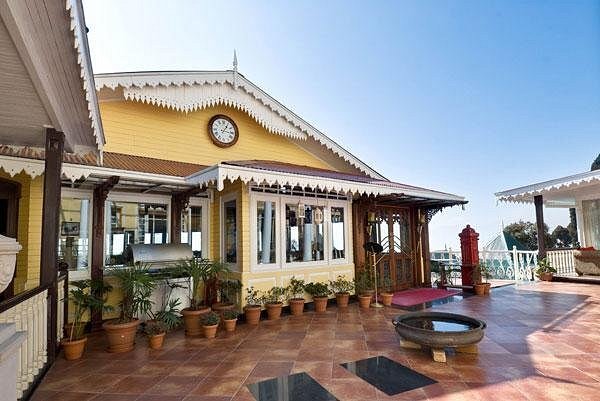 Image: Tripadvisor
Budget for 30 days: INR 20,000 and 270.32 USD
In the name alone, you're transported to a British scene! The use of wood in the decor, floors, and ceilings, will catch you by surprise & transport you back to a simpler time in the country. You'll feel as if you're closer to nature at this cabin, which offers a breathtaking view of Kanchenjunga. The extensive use of floral decorating elevates the atmosphere throughout the space. There's a patio, a garden, and free WiFi to enjoy. The apartment has two bedrooms and a kitchenette.
Image: Tripadvisor
Budget for 30 days: INR 36,043 and 487.29 USD
This property, which is situated in Teesta Bazar, is great for people seeking a straightforward but satiating stay. It's one of those accommodations that will provide you with the perfect vacation from the hustle and bustle of city life. The apartments have been created in a straightforward manner, yet there is still no compromise on the fundamental requirements. Your surroundings are more informal, which helps you to feel more at ease and comfortable here.
Image: Tripadvisor
Budget for 30 days: INR 50,016.14 and 676.38 USD
Recommended Cafes to Visit in Darjeeling
Imagine a day filled with delicious comfort food, lush green tea estates, and steaming cups of coffee in the tranquility of the hills. After a long day of sightseeing in Darjeeling, a cup of fresh coffee and a comfortable cafe are the perfect cure for exhaustion.
In Darjeeling, you'll find a plethora of cafés where the cuisine is delicious and the prices are reasonable. The Hot Stimulating is one of Darjeeling's most affordable cafes. Get ready to savor the flavors of masala tea, coffee, & dumplings.
Cost for two: INR 600
Tom & Jerry's Café
All-day breakfast cafe Tom & Jerry's is one of the few in Darjeeling. This cafe is indeed a big favorite for the younger generation because of its retro theme. It's a small shop, but the cappuccino you get there isn't brewed from coffee powder, and it's delicious. The locals love the chicken legs and snack boxes. If you'd like to sample some of the finest Darjeeling cuisines, you may find them on their menu. The passion & soul of people serving cuisine may be seen in the rich flavors, generous servings, and mouthwatering menu.
Cost for two: INR 800
Himalaya Java Coffee
The Himalaya Coffee cafe in Darjeeling should be on your list of places to visit if coffee is an important part of your daily routine. This is a coffee shop that caters to coffee aficionados, serving up a variety of Nepalese delicacies such as waffles, pancakes, and more. You might arrange to visit this place after buying at one of the best marketplaces in Darjeeling. Try the Java's Signature Cappuccino and the Caramel Latte! If you're in Darjeeling, don't miss out on this popular cafe!
Cost for two: INR 1000
FAQs
Is Darjeeling a good option to take a vacation while working?
The striking black tea plantations of Darjeeling have made it one of our favorite places to visit. This hill town's natural splendor is calm, making it a popular tourist destination. Located just at the foothills of the Himalayas, this location provides a breathtaking vista that enthralls visitors.
In what season is Darjeeling best visited?
While the best time to visit Darjeeling is during the spring and summer months of April through June, some visitors, particularly couples, like to go during the winter months of October through December.