Work From Mountains in Ladakh: Budget, Plan(Read This First!)
Working from mountains Ladakh needs intense planning and knowledge of the city. Read on for costs, plans and handy tips for trip
Impromptu plans are great, but a million things could go wrong and ruin your vacation if not planned properly. I have put together all the research I did when I planned a trip to Ladakh last summer. Read on for the best ways to save money, visit the best cafes, and stay at the most affordable yet, picturesque hotels.
Ladakh, also known as 'the Land of High Passes,' is a stunning region in northern India. Ladakh is a picturesque destination with snow-capped peaks, clear blue skies, barren mountains, and meandering rivers. It is also a perfect destination to work from the mountains. Ladakh is a place that you can't get enough of. 
Planning Your Work from Mountains Routine
With its location at the foot of the Trans-Himalayan range in the Indian state of Jammu and Kashmir in northern India, Ladakh has recently risen to become one of the most popular work vacation destinations in the country. Riding across high-altitude mountain passes, visiting monasteries, and camping next to breathtaking high-altitude lakes are just a few of the attractions that Ladakh offers visitors.
Planning Your Day in Ladakh
Mornings
Begin your lovely day with even more stunning mountain views, close-to-the-ground clouds, and a refreshingly cool temperature. Enjoy a leisurely breakfast while taking in your favorite sight. Due to the fact that this is a work tour, you should immediately begin your workday. Check out the cafes listed below and plan to work from a beautiful cafe on some days. Enjoy the traditional Ladakhi cuisine while attending calls and savor local snacks on the side. 
Evenings
Use your evenings to appreciate the natural beauty of the city. Plan a long walk or a visit to the local markets in the evenings. Meet the locals, or simply sit on the terrace with a hot cup of tea or coffee, taking in the mesmerizing view.
Nights
At night, you can take part in the musical nights and bonfire arranged by the hotel(most hotels do this).
Weekend excursions to the Zanskar Valley, Nubra Valley, Pangong Tso, Tso Moriri, Lamayuru, and Kargil War Memorial are a must. 
Recommended Budget Stays for Working from Mountains in Ladakh
The entire cost of your Ladakh trip will be determined by a variety of criteria such as your mode of transportation, the total number of days you choose to spend there, your lodging options, and on how you plan on exploring the place.
The typical cost of a month-long trip for an adult is around 50000 INR (around 700$).
Located only a few blocks from the Leh Temple and Jama Masjid, the Grand Dragon Ladakh is a highland hideaway in the heart of Leh. Travelers may make use of the business center, free newspapers in the lobby, and their handy dry cleaning/laundry service.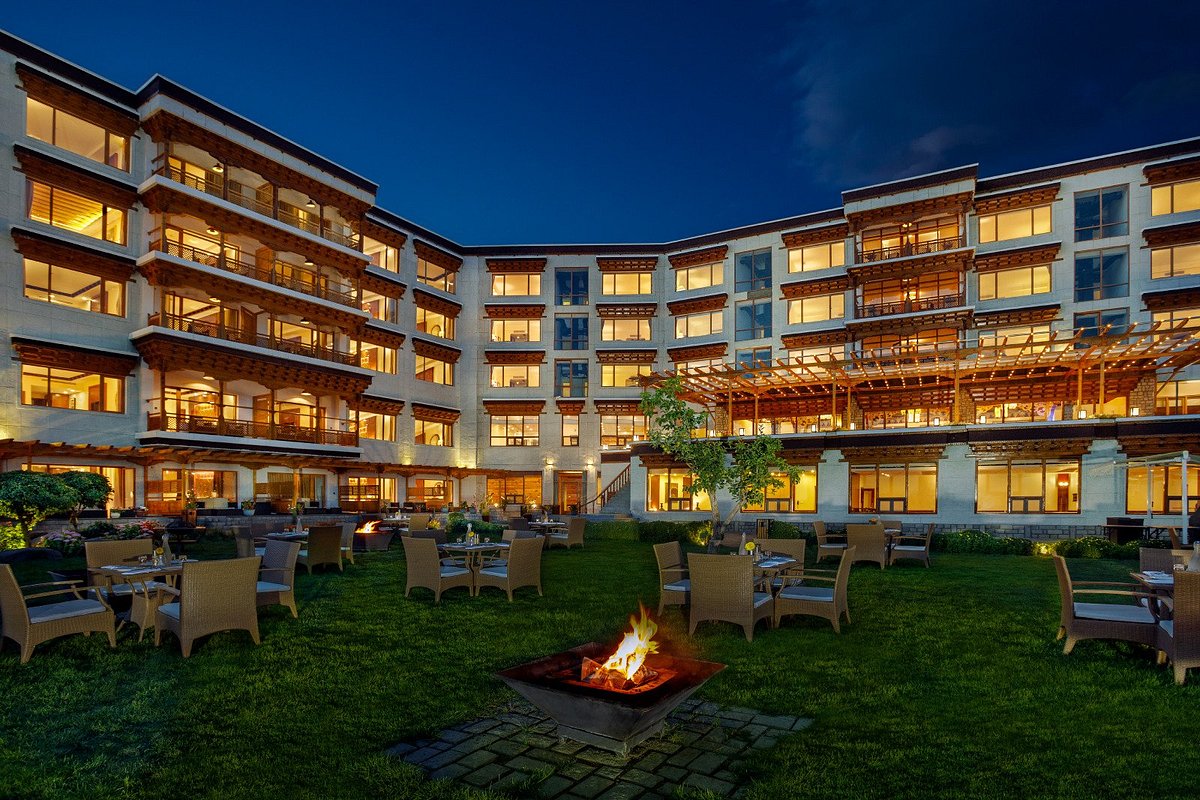 Image: Tripadvisor
A conference center and a meeting room are available for use at this hotel's event amenities. There is a cost for the round-trip airport shuttle service (which is accessible 24 hours a day), and free self-parking is offered on-site. They have awesome Wi-Fi and you can work uninterrupted.
Hotel room
You'll get your own private room with access to all hotel amenities.
Clean and Orderly
This stay included a variety of various cleaning procedures.
Freebies
This accommodation includes complimentary Wi-Fi, breakfast, and parking.
Budget:
The average cost of a stay there is roughly 700 $ or 50000 INR.
 Gomang-Boutique Hotel Ladakh is located about 3 kilometers from the Kushok Bakula Rimpochee Airport in Leh, which is renowned for its stunning scenery. There is free Wi-Fi access. A television, sitting space, and satellite channels are included in every room at this hotel.
Image: Tripadvisor
In addition, an electric kettle is provided. Free toiletries and slippers are provided in the private bathroom, which also has a shower. The room has a view of both the mountains and the garden. Cable channels are available as an add-on.
 At Gomang-Boutique Hotel Ladakh you will find a 24-hour front desk, a garden, and a terrace. Other facilities offered at the property include a tour desk and luggage storage. The property offers free parking. The hotel is 100 meters from the Drepung Monastery and 1.5 km from both the Leh Palace and Shanti Stupa.
The Leh Bus Station is 2 km away while the Srinagar Railway Station is 428 km from the property. Guests can head to the dining hall to relish the all-vegetarian multi-cuisine delights. Room service can be requested for in-room dining comforts
Budget:
The average cost of a stay there is 40000 IND (550 $).
Located in Leh, Hotel Nature Residency Leh Ladakh is minutes from Indus River View Point and Shey Palace.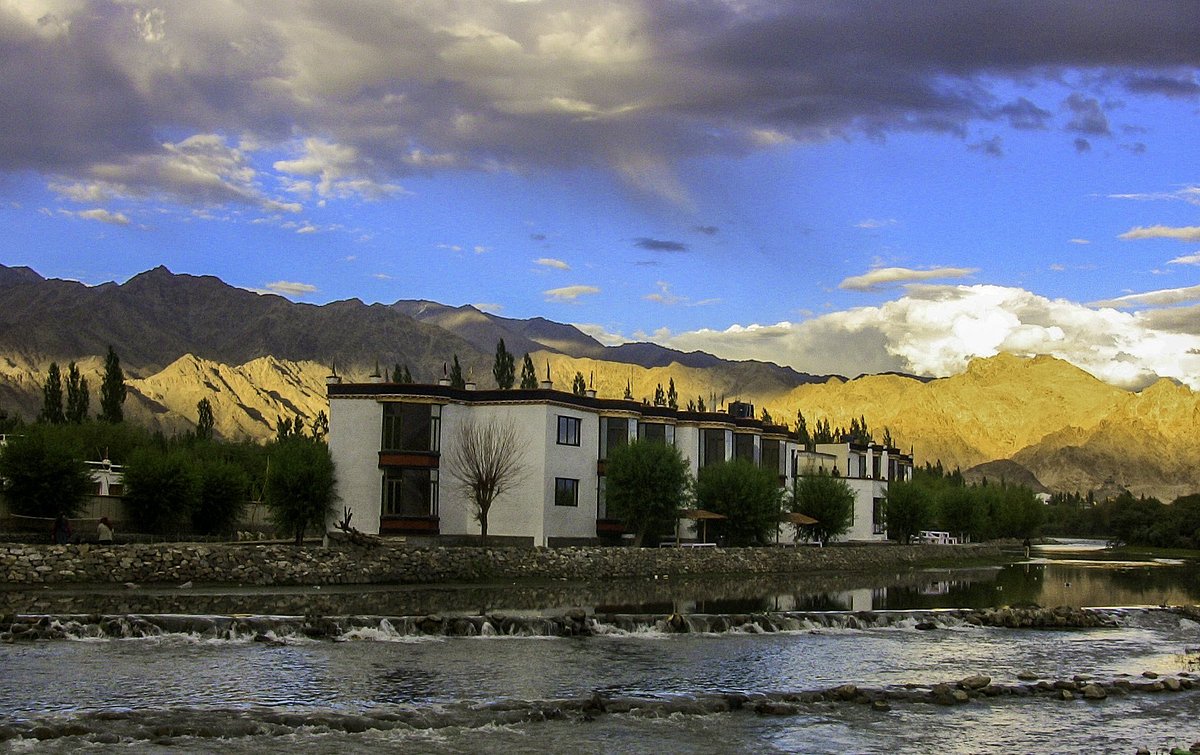 Image: Tripadvisor
This hotel is within a 15-minute drive of Shey Palace. A 24-hour business center, complimentary newspapers in the lobby, and a 24-hour front desk are just a few of the amenities available at this hotel. Are you organizing an event in Leh? An indoor pool and a conference center are among the amenities of this hotel, which measures 215 square feet (20 square meters). There is a cost for the round-trip airport shuttle service (which is accessible 24 hours a day), and free valet parking is offered on-site.
Hotel Room
You'll enjoy a private room with all of the amenities of the hotel.
Freebies
This package includes free Wi-Fi and a complimentary breakfast.
Budget:
The stay there costs 400$ (30000 INR)
Recommended Cafes to Visit while Working from Mountain in Ladakh
It is a land of mesmerizing nature and scrumptious delicacies, and it is called Leh Ladakh. You'll be taken aback by the power of nature as well as the exquisite presentation of the food platters by various dining establishments.
While the harsh weather conditions in Ladakh give you goosebumps, the culinary delicacies of the region are equally as delicious! I've compiled a list of the best cafes in Ladakh that you simply must visit while you're in this breathtaking location.
A visit to Lehvenda Cafe would undoubtedly leave you feeling satisfied after sampling their incredibly delicious and aromatic coffees. The wonderful aroma of freshly made coffee is just intoxicating! In addition to excellent and delectable cuisine, it also serves delicious pizzas and waffles that are to die for.
 You can totally justify spending money on a delicious cup of coffee while enjoying a beautiful view of the mountain. It also features enticing decor and an inviting atmosphere that is a blend of traditional and contemporary interiors.
Budget: 
2$ or 150INR
Get More Details here.
Three Wise Monkeys' Cafe
3 Wise Monkeys Cafe is a delightfully little and friendly establishment that serves you some seriously delicious beverages as well as beautiful moist desserts. It has a beautiful atmosphere, charming interiors, and a staff that is exceptionally helpful and pleasant. The proprietor of this food establishment is a Japanese man who is passionate about cooking wonderful dishes with fresh, seasonal ingredients.
Image: Tripadvisor
The Apricot cheesecake, which is the main attraction at this dining establishment, should not be missed.
Budget:
500 INR or 7$
Click here for more details!
 My Cafe is considered to be one of the greatest coffee shops in Ladakh, according to the locals. So, if you are a coffee enthusiast, you must pay a visit to this establishment for some excellent and flavorful coffee selections.
Image: Tripadvisor
My café meets all of your demands when it comes to a pleasant atmosphere, mouth-watering pastries, freshly prepared and tasty lattes, and a variety of delectable sweets to choose from. When you're out with a group of friends, the simple yet modern décor of the restaurant adds to the enjoyment of the evening even more than before.
Budget:
200INR or 3$
More details here!
Things to Note
When planning a trip to Ladakh, you should make sure that you are fully equipped for the harsh weather, high altitude, and lack of mobile service. Simply ensuring that certain elements are in place will transform your Leh Ladakh trip into one of the most memorable experiences of your life.
Due to the fact that most prepaid phones do not work in Ladakh, it is recommended that you obtain a BSNL postpaid connection for your Leh Ladakh tours vacation, since it is the only network that operates there.
There may be problems with the electricity. Keep power banks and replacement batteries on hand at all times.